IN TOUCH WITH: GABRIEL NYONI
23 April 2020
Probably one of the fastest players in South African football, Gabriel Nyoni was settling in well to the Premier Soccer League (PSL) before the coronavirus brought an abrupt halt to proceedings.

The 27-year-old Nyoni was signed in the off-season after the excellent form he showed at Zimbabwe Premier League side CAPS United. Before that, he was on the books of Bulawayo based club Highlanders.


He settled in quickly at the Team of Choice and has featured in 12 league and cup matches this term, offering coach Eric Tinkler an exciting option with his blistering speed out wide.


A popular member of the change-room, Nyoni is known also for his intelligence off the field and has a Bachelor Of Commerce honours degree in Marketing to his name.


The Maritzburg United media team caught up with Gabriel to find out how he's managing under the current lockdown situation.


MUFC: Where are you spending the lockdown
Gabriel Nyoni (GN): I am spending it at home alone.


MUFC: How are you keeping busy?
GN: Working out two times a day and reading metaphysical books


MUFC: Who is the teammate/ coach you keep most in contact with and how often do you speak?
GN: Clive Augusto, we talk most of the time.


MUFC: Have you ever imagined life without football? And what would you have done for a career had you not been a footballer?
GN: I have always imagined life without football because despite the lockdown there is a day I will stop playing. I think I would have been a great marketer since I already have a bachelor of commerce honours degree in Marketing.


MUFC: Are there any games/ movies/ series/ books that you can recommend?
GN: I recommend the book called "You are not so smart".


MUFC: How are your family doing back home?
GN: They are all well.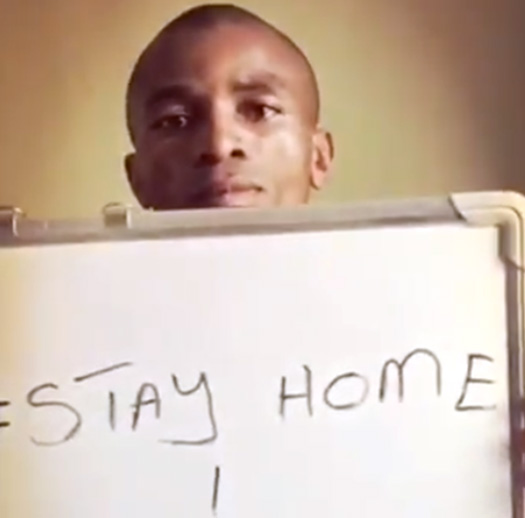 MUFC: What has the lockdown been like in your home area?


GN:

It has been mentally stressing back in Zim since some are failing to feed themselves.



MUFC: Looking at the season so far, which was the most impressive result/game for the team?
GN: The away Game against Kaizer Chiefs - the one we won 2-1.



MUFC: In which match do you feel you played your best?
GN: The match against Baroka FC.



MUFC: What was the best goal scored by MUFC this season?
GN: Kutumela's first goal of the season






* Our social media platforms will continue to provide updates and let you know what our players are up to - please click on links below: