5 December 2008

UNITED GO HEAD HUNTING
Coaches from the Development Wing were at the KZN Inter District U17 Tournament eyeing talent to be recruited into the United Development Programme.
The Tournament was hosted by Umgungundlovu Football Association and staged at the Northdale Stadium in Pietermaritzburg. Amongst the Districts present were Emkhanyakude, Ethekwini, Amajuba, Ilemba, sisonke and Umgungundlovu.
The organizer and coordinator of the tournament, Mr. Dumisani Mhlongo said the exercise was to select a team that will represent KwaZulu Natal at the National U17 Tournament in Secunda in December 2008.
Uniteds Head of Development, Katz Naidoo felt the tournament was an ideal opportunity for the Development Wing to scout talent. With ten Districts participating in our back yard we needed to seize the opportunity.
Coach Katz was not too pleased with the qualityof the players and there was also the suspicion of overage players in some of the teams. However there were two players that caught the selectors attention, Mcedise Mkwanazi from the Amajuba District and Ethekwini's Londokhule Maduna. These two players will be invited for further trials with the club.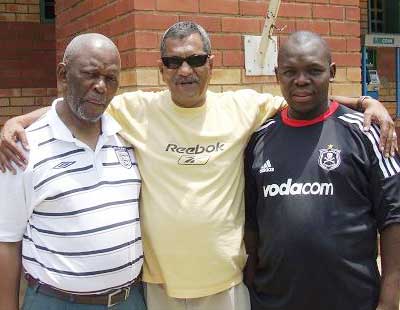 Present at the Tournament were Mr. Eric Mthatha the SAFA KZN President and National executive member of Safa (left) and SAFA Umgungundlovu General Secretary and Tournament Coordinator, Dumisani Mhlongo. In the middle is Uniteds Head of Development, Katz Naidoo.
Action from the game between Ethekwini and Emkhanyakude. Ethekwini won this game 2-1.


The Umgungundlovu U17 Team.
The winners of the Tournament, Ethekwini District pose for this team photo before the start of the Tournament.

.