IN TOUCH WITH: BONGANI MPANDLE
14 May 2020
Today it's the turn of Maritzburg United goalkeeper Bongani Mpandle to go under the spotlight in our lockdown interview series.



The 27-year-old arrived at the Team of Choice ahead of the 2016/ 17 season and went on to play 10 league matches in that campaign.
Since then, the brilliance of Richard Ofori has seen Mpandle's game-time limited. But he's remained a key member of the squad and has contributed immensely in the goalkeeping department at the club.
It's not easy to come in from the cold - to be ready for competitive action - after a time on the sidelines. But when called upon, Bongani has always brought his A-game and has shown himself to be an especially adept penalty stopper.
It was his heroics which helped Maritzburg reach the Telkom Knockout final after he made two saves in the penalty shootout against Bidvest Wits in the first round, and another in the quarter-finals against Highlands Park.
Here's what Bongani has been up to during the lockdown:
MUFC: Where are you spending the lockdown?
BM: I'm still in Pietermaritzburg.
MUFC: How are you keeping busy?
BM: I'm following the program I got from Burger.
MUFC: How often do you speak to your teammates/coach?
BM: I do speak to my teammates and Burger.
MUFC: Who is the person you are most in contact with during the lockdown and how do you guys chat?
BM: I'm in contact with Judas Moseamedi, we check up on each other via Whatsapp.
MUFC: Have you ever imagined life without football? And what would you have done for a career had you not been a footballer?
BM: To be honest I don't know and I have not imagined life without football because I grew up loving football, even at home they love football. Maybe I would have taken Sport Management as a career.
MUFC:Are there any games/ movies/ series/ books that you can recommend?
BM: I'm only busy with PlayStation.
MUFC: Looking at the season so far, which was the most impressive result/ game for the team?
BM: Against Kaizer Chiefs at home, the 1-1 draw.
MUFC: In which match do you feel you played your best?
BM: I think against Highlands Park in the Telkom Knockout.
MUFC: What was the best goal scored by MUFC this season?
BM: Against Stellenbosch away game (Thabiso Kutumela rounded off a brilliant team move in a 2-2 draw in the Nedbank Cup. United won 5-4 on penalties).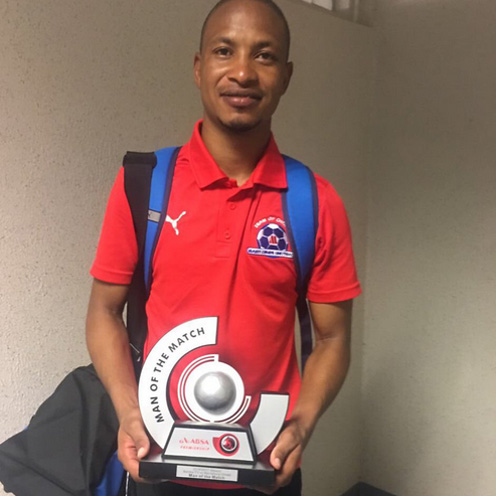 * Our social media platforms will continue to provide updates and let you know what our players are up to - please click on links below: