'EVERY POINT IS GOLD' - COACH ERIC PLEASED WITH FRIDAY NIGHT'S WORK

22 August 2020
Having started their stay in the bio-bubble with a disappointing 3-2 defeat against Black Leopards, Friday night's 2-2 draw with Mamelodi Sundowns saw the Maritzburg United players starting to look more like their usual selves.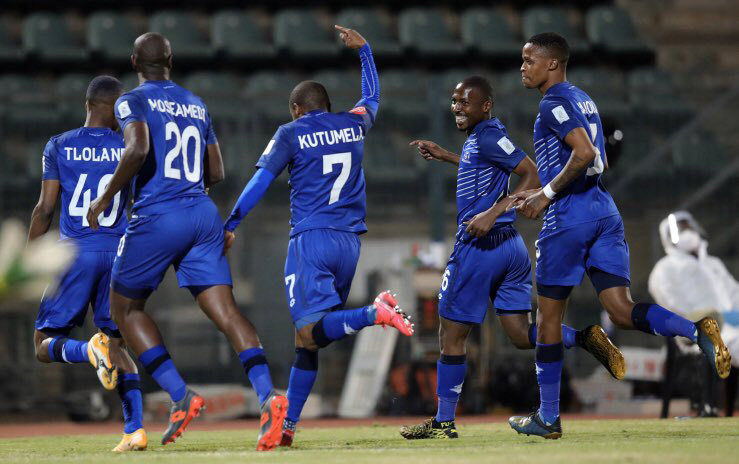 The Team of Choice twice came from behind to earn a credible Absa Premiership draw at Lucas Moripe Stadium on Friday evening. The second half performance in particular bodes well for Monday afternoon's showdown with another of the league's top sides, Bidvest Wits.
"I'm proud of the performance," coach Eric Tinkler said after the final whistle in Atteridgeville. "Maybe I was harsh on the boys in the last game. Four months is a very long time to be out of professional sport and professional football.
"And the fact that you come back in and you're thrown straight into this bubble and you're playing a competitive league match without having played any friendlies. So its always going to be tough to gauge where you are."
Although Maritzburg had managed to go into the break at 1-1, thanks to Rushine De Reuck's first ever goal in the top flight, a lovely volley, for coach Eric it was very much a game of two halves:
"Looking at the first half - Sundowns you can see the fluidity is there because they've played more games than us...this was only our second game, so we started very poorly, although our shape defensively was slightly better.
"But we looked like we were playing with fear, we didn't look confident on the ball. Every time they pressed us we gave it away too easily and then we ended up having to soak up a lot pf pressure which ended up in them scoring.
"We tried to fix that, we got the equaliser, but that was the only real opportunity we created in that first half.
"I thought Sundowns were much better than us first half," the coach continued, "and I spoke to the boys at half time, I said first and foremost, we can't be playing with fear. Tactically, we need to hold the line a little bit higher and don't drop off to early, because then they are going to play into those spaces. When we did that and we started to play then we looked more of a threat."

When the Pretoria side went down to 10 men with 20 minutes to play, the prospect of snatching victory became more tempting. A point though made for a satisfactory conclusion on the balance of things.
"I thought we deserved to get the equalizer, make it 2-2," the coach said "And then, every point is gold, to be honest.
"Possibly I could have been a little braver and said come let's go get the three points when they went down to 10. But you are playing against a quality team and like I said, they have fluidity and with the quality they have, they can potentially catch you on the break. So we had to play a little bit cautious towards the end, and I'm happy with a point."
Thabiso Kutumela, scorer of a brilliant second goal against Sundowns, was also satisfied with the result and is now looking forward to Monday's clash with the Students.
"Against a big team, we'll take one point and then we go and prepare for the next game," Kutumela commented.
"First half we started slow, they got a goal...but we managed to come back with the set piece. Second half we managed to close Ricardo Nasciemento because he was the one who was killing us with the long balls between our center backs. But I think we played well, we need this one point because of where we standing, the teams behind us are pushing."
The match against the Clever Boys kicks off at 3.30pm at the Tuks Stadium. Wits are in fourth place with 44 points – four points and two positions above the Team of Choice.



* Maritzburg United's official social media platforms will provide further news updates, as well as live coverage on match days - please click on links below for more info: