TEAM OF CHOICE WON'T SHY AWAY FROM SUNDOWNS CHALLENGE
4 December 2020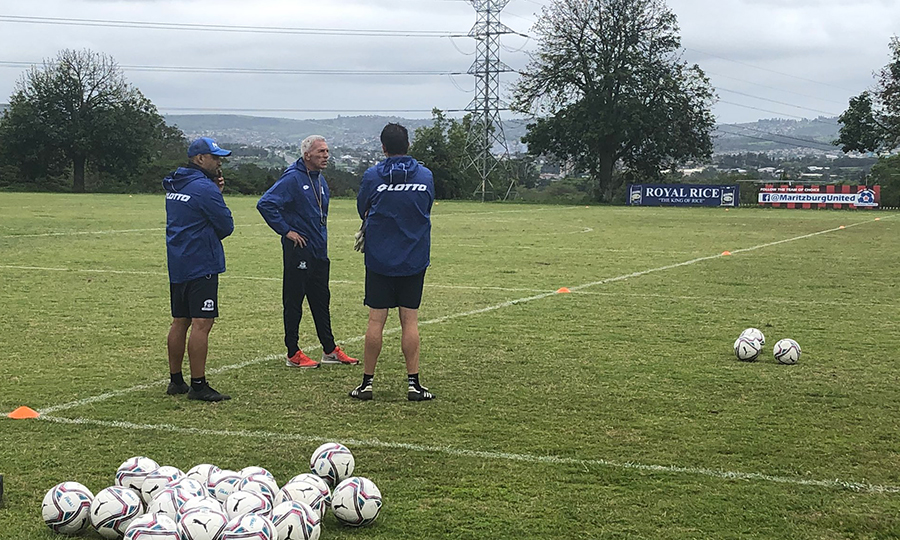 Maritzburg United are determined to get a positive result from Saturday night's DStv Premiership clash against defending champions Mamelodi Sundowns at the Harry Gwala Stadium.
Kick off is scheduled for 20H15.
It is of course a big ask against the star-studded Brazilians, who have been in excellent form and are top of the DStv standings.
Maritzburg will certainly be underdogs and will have to call on all their character reserves. United have however certainly put in the effort at training this week and will be revved up to get a good result, as assistant coach Delron Buckley has underlined.
"Coach Ernst Middendorp has taken the training sessions this week and the sessions were very intensive," he said.
"The morale of the players has picked up and the players' response has been very good - as you know with coach Middendorp, he doesn't beat around the bush.
"He wants players that want to work for him, he wants players that can do the job for him. If you are taking things easy at training he will let you know you are not in a comfortable position. You have got to work for your position no matter which player it is," Buckley continued.
"Its opened up the players' eyes, they realise that we have to work hard. Training sessions this week were tight, getting the players to get stuck in to tackles, duels, the players having to play out of tight positions. And the players responded well to that, you could see also the fitness picking up, which is very good for us.
"Coach Middendorp has his ideas, systems and his concepts on how he wants to present the team against Sundowns which I think is going to be appropriate for us," the former Bafana Bafana winger added.
Apart from long-term injury victim Mxolisi Kunene, the Team of Choice have a clean bill of health for the encounter.
Head to head
Maritzburg can take a certain amount of heart from the last time they played Sundowns at home - it ended 2-2.
Over the years they have clashed 32 times with the Tshwane giants and won six, drawn seven and lost 19.


* MARITZBURG UNITED'S OFFICIAL SOCIAL MEDIA PLATFORMS WILL PROVIDE FURTHER NEWS UPDATES, PLEASE CLICK ON THE LINKS BELOW FOR MORE INFO: