MIDDENDORP: ITS A START, BUT A LONG WAY TO GO
7 December 2020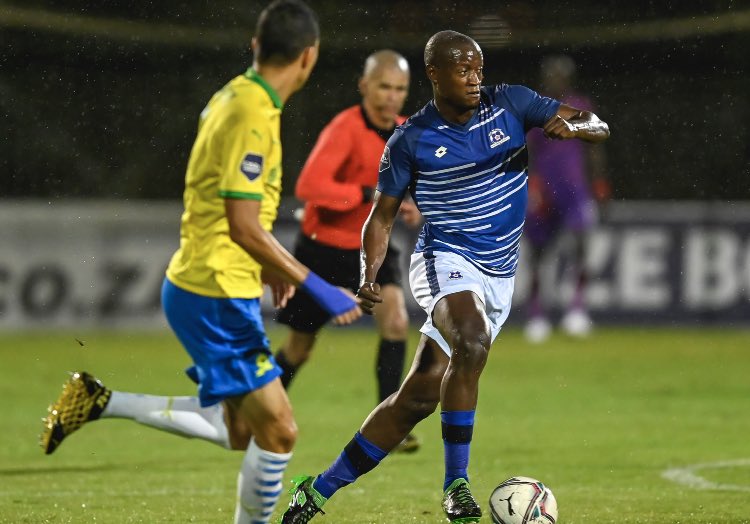 Maritzburg United head coach Ernst Middendorp was pleased with the overall performance his side gave against Mamelodi Sundowns in a 1-1 DStv Premiership match at the Harry Gwala Stadium on Saturday night.
The Brazilians had been in fine form and on top of the league heading into the match and took the lead in the 31st minute through Bafana Bafana winger Themba Zwane.
But the Team of Choice showed excellent character to rally back and claim a point, thanks to Kwanda Mngonyama's well taken header from a corner by Dan Morgan in the 60th minute.
For coach Middendorp, there were several positives to take from the performance, as well as a couple of areas which he was not completely happy about.
"A bit of too much respect in the beginning," he said after the game on a raining evening in Pietermaritzburg. "We came into the second part of the first half and did better. Second half I think more brave.
"At the moment everyone is prepared to contribute. The analyst Paul [Lamb] really gave a good input during half time, seeing it from the top," the coach continued.
"Everybody is prepared and I am sure at the end of the season we will have come out of this position."
Middendorp did however, feel that Zwane's goal could have been avoided.
"A little bit of being too casual, too easy - it was possible to track this player and go more aggressive into one against one," he said.
"At the moment there are some times of a little bit of uncertainty where we are running around on the field. But like I said, its a process, its a start and its a long way to go."
Mngonyama, meanwhile, was named Man-of-the-Match for his sterling efforts up and down the right wing for United.
"I would like to thank my coach and I would like to thank my team-mates, because you could see we've got a plan from the start, we're structured. Coach gave us instructions how to approach the match," Mngonyama said.
"We knew that they are going to come at us, but their wings, they are always pushing high. So they are going to be always leaving space on the side. So I was ready and prepared to run on the their left, because [Lyle] Lakay, we knew he's going to push high," the Maritzburg player revealed.
Mngonyama is now keen to knuckle down and work hard to keep impressing his coach.
"When the coach gives you a chance, you have to grab it, take it. I really appreciate the opportunity, he always wants us to work hard, to push each and every training session. So its not a new thing for me, I've worked with him before. I know what he expects from me.
"You can see progress, the self belief is back. So we are looking forward to keep on going."






* MARITZBURG UNITED'S OFFICIAL SOCIAL MEDIA PLATFORMS WILL PROVIDE FURTHER NEWS UPDATES, PLEASE CLICK ON THE LINKS BELOW FOR MORE INFO: