COACH ERNST: IT'S NOT ONLY ABOUT SKILL, MENTALITY IS IMPORTANT

21 January 2021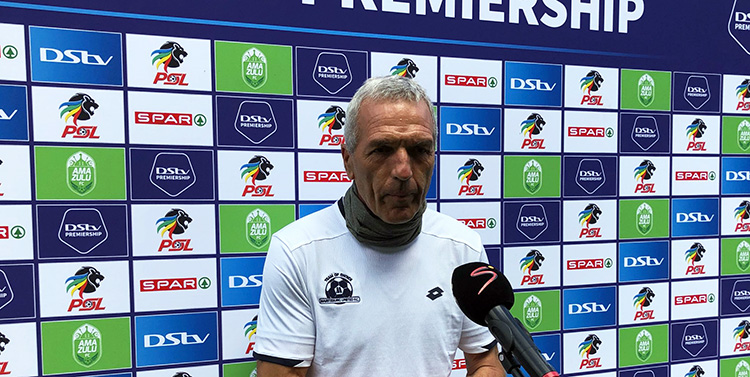 Maritzburg United head coach Ernst Middendorp wants his players to develop a tougher mental capacity.

The Team of Choice's four-match unbeaten run came to an end on Wednesday night when they lost 3-0 to TS Galaxy in a DStv Premiership encounter at the Harry Gwala Stadium.
Coach Ernst was unhappy with some careless mistakes.
"I thought we were over it with making the individual mistakes to give the opponent scoring opportunities," he said.
"Against a man-marking side, and very robust in one against one duels – and you give them opportunities with mistakes – I think not only in one goal but at least two goals - then its very difficult to unlock this defence.
"In the end we were not able to produce scoring opportunities, we could have played another three days," the coach continued.
"But this is the result of providing them with the opportunity to come one-zero in front. We have to ask ourselves - its a question of do you want to have results – its not only the talent, not only the skills you have as a team. The mentality in this moment must be okay – individually and as a team."
The Team of Choice tactician has a couple of days to work on things in training, ahead of Maritzburg's league clash with Orlando Pirates at the Harry Gwala Stadium on Saturday evening.
* MARITZBURG UNITED'S OFFICIAL SOCIAL MEDIA PLATFORMS WILL PROVIDE FURTHER NEWS UPDATES, PLEASE CLICK ON THE LINKS BELOW FOR MORE INFO: