TEAM OF CHOICE PREPARED FOR TOUGH DERBY BATTLE

29 January 2021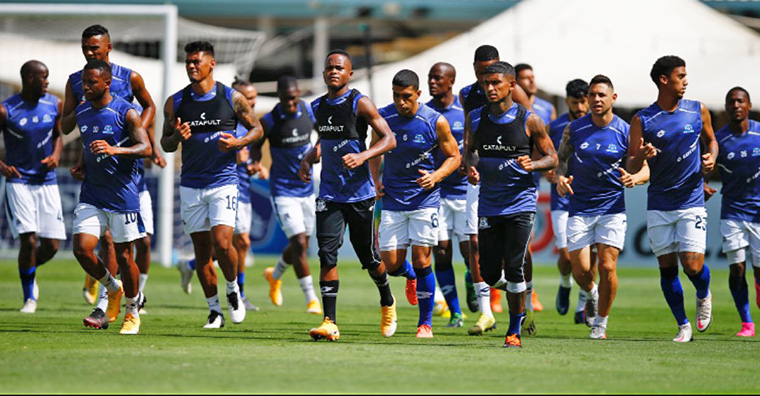 Maritzburg United are aiming to return to the winning form we showed at the beginning of 2021 when we clash with Lamontville Golden Arrows in a KwaZulu-Natal DStv Premiership derby at the Sugar Ray Xulu Stadium on Saturday evening.
Adding to the heat of the derby is the fact that both teams have not been in good form of late - Arrows have taken one point from their last two matches while the Team of Choice have only claimed one point from our last three outings in the DStv Premiership.
For Maritzburg it will be important not to repeat some of the mistakes made in recent matches, says midfielder Daylon Claasen.
"In soccer one can do nothing but just keep on working hard and giving your best in training," Claasen commented.
"We are trying our best in training to rectify our mistakes and take it into the game against Golden Arrows."
As Claasen adds, it's not just about having the right game-plan, but its the implementation of that plan and also being able to make the correct decisions in the heat of the moment.
"I expect it to be a difficult game, especially as it's two teams from KZN. I expect a competitive match," said the former Bafana Bafana playmaker.
"The coach has his tactics and his game-plan. But one can only prepare so much - on the day you need to adjust and adapt accordingly to win the game."
Head-to-head
The KZN clubs have met on 26 occasions. Maritzburg have won seven, drawn seven and lost 12.
In last season's two league matches, the Team of Choice won 2-1 in Pietermaritzburg but lost 1-0 in Durban.
Saturday's match kicks off at 5pm.
* MARITZBURG UNITED'S OFFICIAL SOCIAL MEDIA PLATFORMS WILL PROVIDE FURTHER NEWS UPDATES, PLEASE CLICK ON THE LINKS BELOW FOR MORE INFO: