COACH ERNST PLEASED WITH THREE POINTS
22 September 2021

Maritzburg United coach Ernst Middendorp was pleased to have walked away with all the points from their DStv Premiership encounter against Marumo Gallants on Wednesday.


Frenchman Amadou Soukouna thumped in a wonderous stoppage-time strike to seal the points through a 1-0 win at Harry Gwala Stadium.
The home debutant, one of the club's high-profile off-season signings, collected the ball outside the box on the left just as the game appeared to be drifting out towards an uninspired draw and thumped the ball cross-goal into the top corner.
"The goal was fantastic and he contributed well to success at the end of the day," coach Ernst said.



"He had very good moments and he as a player needs to be playing in a certain way, but a number of players are not used to it as yet...in terms of combination, in terms of not hitting the ball in the air, he needs it on the foot. He needs quick and fast combinations, he can solve things for us in attack. He is very capable of scoring."
The game itself was not too inspiring for the German coach, with United having to dig deep to stay in the contest, before snatching the points at the death.
"From a footballing perspective, it wasn't a very pleasing game to watch," coach Ernst explained. "But ultimately it is all about the points and all about building up the confidence and then moving from there to the performance, so it's a step-by-step process. We've now played four games, two home and two away and we have six points, which is fantastic for us."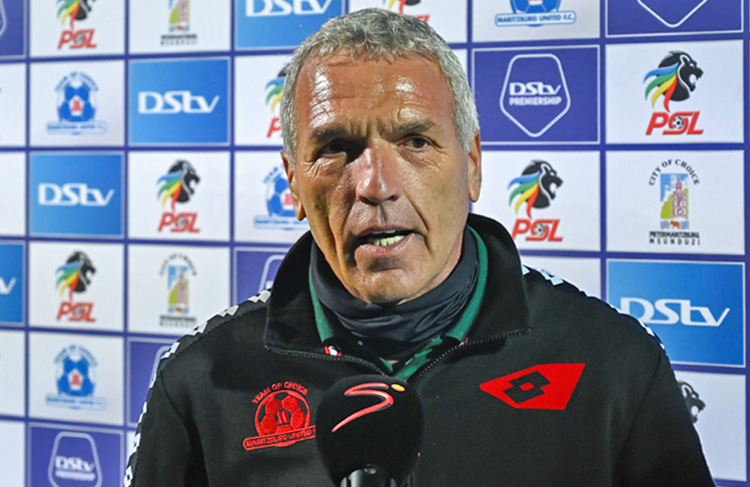 The result lifted the Team of Choice up to seventh on the table. Despite the result, however, coach Ernst felt there was plenty of hard work still ahead of his side.
"The quality was not what we would like to see," he added. "I mentioned before the game that we had six new players in the starting XI and you could see the connection was not there, you could see the individual belief to provide a good level of performance was lacking, so it was average. I see the players at training and they do so much better there. The players all know it and they can do much better than what we saw.
"We saw another great goalkeeping performance by Marcel Engelhardt again. He gives us stability after some players in front of him made individual mistakes and providing options for the opposition. But we will work on it, we will get better and that is what we have to focus on for now, cutting out the errors and improving step-by-step, game-by-game."
Maritzburg will next be in action on Saturday when they travel to Gauteng to face SuperSport United.



* For the latest news on Maritzburg United, follow or like us on our social media handles listed below in the Fans section*